China 2023 Sanjiangyuan Panda National Park + Tibetan antelope Silver Coin PF70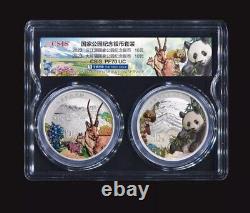 Please use this picture as a reference. Actual banknotes may have different serial numbers, signatures and prefixes. Please log in to official website to check the authenticity of banknotes. This item is very heavy, about 500 grams. In some cases, the transportation time may be delayed due to the epidemic.
Special note (2022.11.22)? Will be used to send the goods to the United States. The whole transportation will take about 10-16 days, except for the epidemic.